ACM vs SFMC
Disclaimer: The below comparision is based on our working experience on these platforms across multiple clients.
Considering to invest in a new campaign management solution? This is an important decision that will have a significant short-term and long-term impact on your marketing plans. Deciding on the best solution to go for your organization will take considerable time and effort. This can get more difficult because of the competition between the leading campaign management solutions. To help you in that regards, this article covers the comparison between two leading campaign management solution providers, Adobe Campaign and Salesforce Marketing Cloud.
What is Campaign management?
Managing independent campaigns across email, social, mobile, web and other channels. Consumers expect fluid and seamless experiences. With the right campaign management strategy and tools in place, you can give the audience a connected, relevant, and engaging experiences they deserve.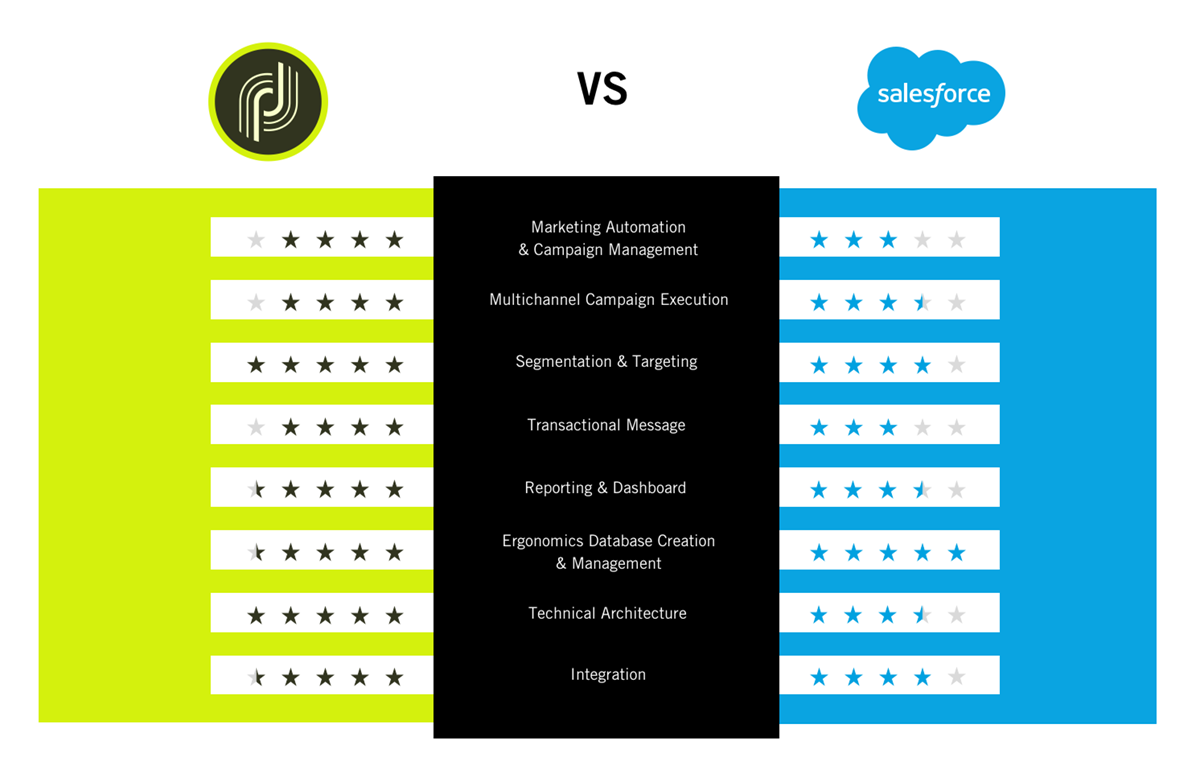 This article considers all the factors that are merged into one category.
Marketing Automation & Campaign Management
The factors that helped to rate this section are ability to orchestrate campaign, create marketing plan, campaign optimization. Cost management, offer management, task management. Dynamic content and multi-lingual capabilities of the solution.
Multichannel Campaign execution
Execusion of campaign on different channels like email, SMS, direct mail, push notification, social network capabilities. Additionally, the features like A/B testing, landing pages, surveys have been taken into consideration.
Segmentation and Targeting
Data management, querying data, graphical targeting, segmentation, KPI's and aggregates. Send address functionality and proof approval targeting.
Transactional message
Trigger real time messaging, batch execution of transactional messages and scalable architecture.
Reporting and Dashboard
Campaign delivery reports, marketing history, enhanced reporting design and engine for custom reports. Predictive subject lines and inbox renderings.
Ergonomics database creation and Management
Standard data models and extension of data models. Out-of-the-box dashboards, custom screens and digital content edition tools.
Technical architecture
Access management, security zones, multi-time zone support, brand configuration, package management. Import-export functionalities, email archiving, online storage. SOAP and REST API.
Integration
Adobe cloud and salesforce cloud integrations, External account configuration, Integration with Marketing ecosystem.
Please feel free to provide your thoughts and comments to this article based on your experience.
Reach out if you are looking for support in choosing the right campaign management soultion.
e: personalisation@iamhelium.com.au
p: +61 4 0404 1227
---