Device Based Personalisation
Device Based Personalisation: How To In Conversion Rates for Desktop and Mobile Users (simultaneously)
In this article, I'm going to share an example of a personalisation use case businesses can implement to increase their mobile and desktop conversion rates.
Personalising experiences on desktop and mobile is one of the biggest opportunities for businesses looking to increase their conversion rates.
In the digital landscape, there a lot of emphasis on mobile friendly websites, responsive design and mobile-first design. And this is no surprise due to the growth in mobile visitors from smartphones.
For many industries, customers will do their initial product research using a mobile device e.g. during their daily commute.
These visitors will often browse several providers, compare different product features before making a decision.
And then…
They will often finalise their purchase when they are on a desktop computer e.g. at home or in the office.
So what?
If a business knows their customers are likely to use a mobile device to research, and a desktop device to make a purchase… why would they have the same content on both mobile and desktop websites?
Enter device-based personalisation.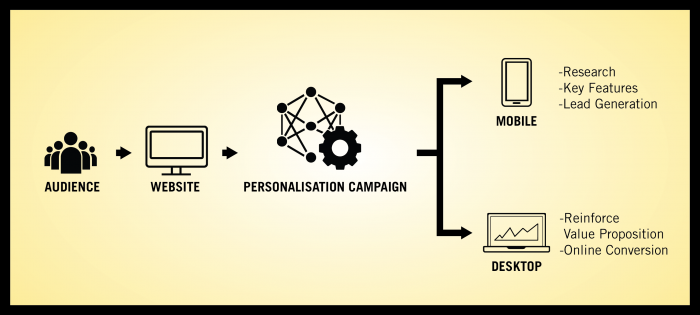 Lets take the assumptions mentioned above, and apply it to a car insurance company as an example.
We could run a Personalisation campaign using an AB testing tool such as Adobe Target or Optimizely with the following experiences.
For all visitors on a mobile devices:
Simplify the copy on the home page and only promote the key features of the product e.g. lower price, flexible excess options etc.
Encourage visitors to take a simple call to action e.g. request a call back or get a quote.
For all visitors on a desktop device:
Provide more information on the home page to reinforce the value proposition and key features e.g. Flexible excess options, 24/7 customer support, hail damage support.
Encourage visitors to sign up online or proceed with their quote e.g. "Already got a quote? Sign up in less than 5 minutes"
The personalised experiences on mobile are designed to help customers in the research phase to take one step closer to buying e.g. get a quote.
And if a mobile user doesn't want to fill out a quote form using their mobile device…
Then promoting a simple call to action such as "request a call back" could be used as another way to generate leads for the sales team.
And what about the desktop visitors?…
The personalised desktop experience focuses on reinforcing the value proposition and driving conversions. And this can be achieved by providing visitors with more information about the key features and benefits, and encouraging customers to take the final step e.g. sign up online in less than 5 minutes.
Next steps…
By doing some in depth research to better understand how your customers are likely to behave when they are using different devices to browse your website, you can then take things to the next level by creating more granular segments and experiences.
e.g. Mobile device + first visit, Desktop device + first visit, Mobile device + returning visit
At Helium, Device-based personalisation is one of the many types of personalisation campaigns we use to help our clients increase their online conversion rates.
Could your business benefit from a similar Personalisation campaign?
If you would like more information on how we could help you to implement this kind of strategy for your personalisation program, or would like a unique campaign idea tailored to your target market, please click here to get in touch.
---