Harness your Push channel – using Adobe Campaign

Let us face it – mobile phones have become the most important part of our life. Not just for communication, the mobile application gives us the power to access anything and everything at tip of our fingers. The use of mobile apps is seen in all the areas of business such as banking, retail, healthcare, telecom etc.
Out of all the other mobile marketing strategies available in the market, push notification marketing allows the business to speak directly to the user. The click through rates of push notification can be twice as high as emails. They are not forgotten in an inbox or caught in the spam filters, instead they remind the user to use the app.
First, what is Mobile Marketing? Mobile marketing is a multi-channel online marketing technique focused at reaching a specific audience on their smartphones, feature phones, tablets, or any other related devices through websites, E-mail, SMS and MMS, social media, or mobile applications. This article is focused on push notifications of a mobile application can be benefited in marketing strategies and if Adobe Campaign allows to automate the process of delivering push notification.
Push Notification
Push notifications are messages that pops up on a user's mobile device in a heads-up manner are called push notifications. Push notifications help in delivering timely & relevant information to users even if the user is not active on the website or app. Nearly all the major apps uses push notification for transactions and re-engagement. Push notification technology is rapidly evolving from a simple message delivery to a rich and interactive medium.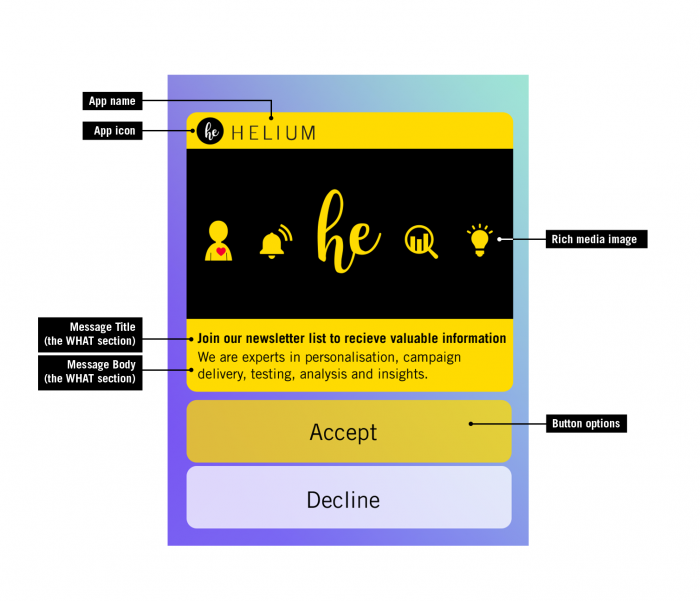 How Push notification benefits business in their mobile marketing strategies?
Push notifications are seen on the user's screen directly even targeting the users not active on the app and so there is very less chance that it will not grab the attention of the app users. When used in the right way with caution, push will prove to be capable of turning out to be a useful marketing tool for reaching out to customers. To dig into, let us check how push notification benefits business in their mobile marketing strategies.
App Engagement
Mobile app notifications allow you to keep in touch with your users in a non-intrusive way by providing timely messages and helpful and relevant information like rewards descriptions and special offers. They also provide a great way of getting users to engage in new promotions or features.
Re-targeting and Retaining users
Many mobile apps have a lot of potential users who have downloaded the app but do not use it. The retention rate for users who opt into mobile notifications is much higher on average. Through notification messages, you can provide your users with thoughtful reminders, personalized offers, and breaking news. If your mobile notifications can show direct personal value, you are much more likely to retain users for the long term.
Increased Conversion Rate
Push technology helps to promote your product gradually. It encourages a subscriber to return to a website again and again so that they get to know your products better with each visit. You keep them engaged by sending the latest news or special offers, etc. They, in turn, can evaluate the benefits of your company and can easily make a purchase.
Segmented Push Notification
You can also send push notifications to users based on their interests. For example, like Netflix, you can use app and audience data to reach the right users. Netflix sends push messages to users who may be interested in a show. For example, you might receive a notification that a drama is now streaming while other people are alerted that a new season of Game of Thrones is up. It is all about targeting the right audience.
Geo-targeting to Target Right Users
Mobile apps can ask for a user's permission to access their location. If they grant it, you will get a great opportunity to personalize the customer experience with location-specific push notifications. A mobile app can send offers that are applicable to users in a specific region based on their time zone. You can target users according to country, state, or city.
Track User Behaviour
Push notifications offer complex analytics with data on delivery receipts, open rates, open times, and engagement. With push notifications, you can get valuable insights into user behaviour including interaction times and click-through rates to see which messages are more likely to be opened. Based on user behaviour data, you can launch campaigns that connect better with users.
Brand Consistency
Push notifications form a complementary marketing channel where you can give extra, value-added information about your brand.
Reduce Effort in Customer Journey
Push notification services can place deep links in push messages that direct users to a certain place in your app. Using deep links is a sure-fire way to engage users with your app, and with the use of a powerful call to action it causes users to perform the required action.
Role of Adobe Campaign to Automate Push Notification Deliveries
Adobe Campaign allows you to send personalized and segmented push notifications to iOS and Android mobile devices.
Two types of push notification are available in Adobe Campaign:
Alert/Message/Badge type notifications enable you to send standard text-based messages with additional content (sound, badge, deep link, etc.) that you can define in the Advanced options section.
Silent push type notifications are used to silently notify the application without any message or content for the end user. A typical use case for this type of message would be to make the application aware that there is content available on the server to be downloaded.
Now, let us find out the different ways to deliver push notifications through Adobe Campaign.
Adobe Campaign Deliveries allows you to create delivery of iOS and Android notifications. This is a one-time delivery.
Adobe Campaign Workflow can be created to automate the push notification deliveries which can be scheduled to deliver, automated, segmented, and personalised and delivered to everyone.
Use Case: Automated workflow to confirm the order and cross sell a related product
A user has bought a cell phone from your company app or website, provide the order confirmation push notification with the order details. Suggest a screen protector, phone case, or headphones for their new phone the next day.

Step 1 The external signal in the workflow waits for the event calls and starts the workflow.
Step 2 The order confirmation push notification delivery is sent to the android and iOS app uses.
Step 3 Wait for 1 day before cross selling the related accessories.
Step 4 Tigger another push notification delivery with the list of related products.
To summarise, Push channel can be an effective and creative part of your mobile marketing. Adobe campaign enables you to manage push marketing in connection and in an orchestrated fashion with other outbound channels like email and SMS.
Written by Afshah Fraz Mohammed (Marketing Automation Technical Consultant at HELIUM)

Reach out if you want support with implementing and operationalising push channel using Adobe Campaign:
e: personalisation@iamhelium.com.au
p: +61 4 0404 1227
---