How to Find Backlinks to a website (Using Ahrefs Tool)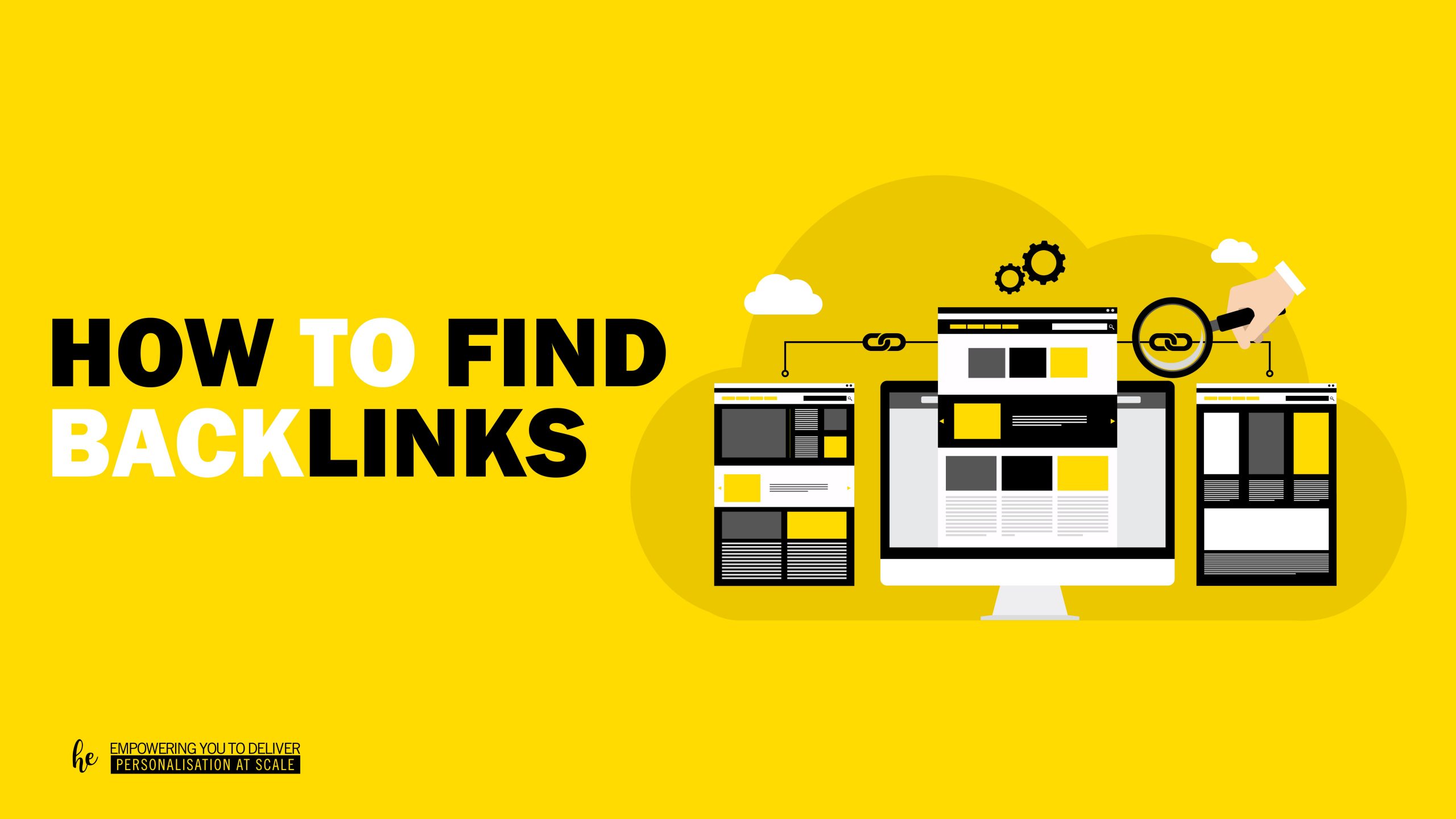 If you want to learn how to find backlinks, you are on the right page. In this article, I will show you how to find backlinks to a website using the Ahrefs tool.
Disclaimer: We are not promoting Ahrefs, you may use other SEO tools as the steps shown below are somehow similar.
But before we continue the step-by-step guide on how to find backlinks, let me give you a brief background on what backlinks are.
Backlinks are also known as "inbound links", a link from one website to another domain. If a third-party page links to your site, you gain a backlink from them.
The step-by-step guide on how to find website backlinks
Table of content
Open Ahrefs Tool
Insert a competitor's website address or the URL You Want To Analyze
Data Overview
Backlinks
The Dofollow and the Nofollow tag
Conclusion
Step 1: Open Ahrefs Tool
The Ahrefs tool is one of the best tools we can use to locate a competitors' backlinks. Once you open up your Ahrefs, at the top of the page, you will see navigation texts like Dashboard, Site Explorer, Keywords Explorer, and more. Click "Site Explorer" navigation link because that's the tool we will be using to compare your site to another site, or to analyze our competitor's backlinks.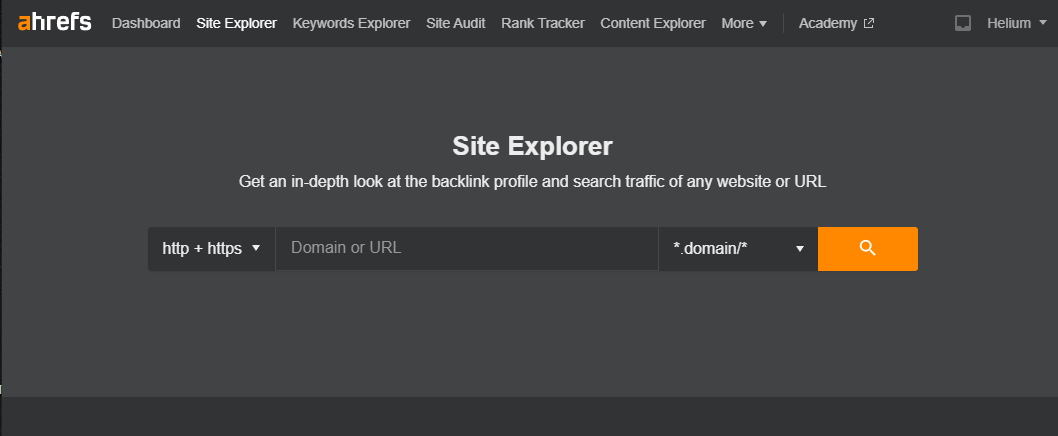 Step 2: Insert a competitor's website address or the URL You Want To Analyze
To check the data and backlinks, you need to enter the website URL into the search box.

Step 3: Data Overview
After you enter the domain of a website you want to dig into, look at the overview report for that website.
If you are new to this tool, you may encounter familiarity difficulties on the data you can see, especially the numbers. Let me give you a brief explanation.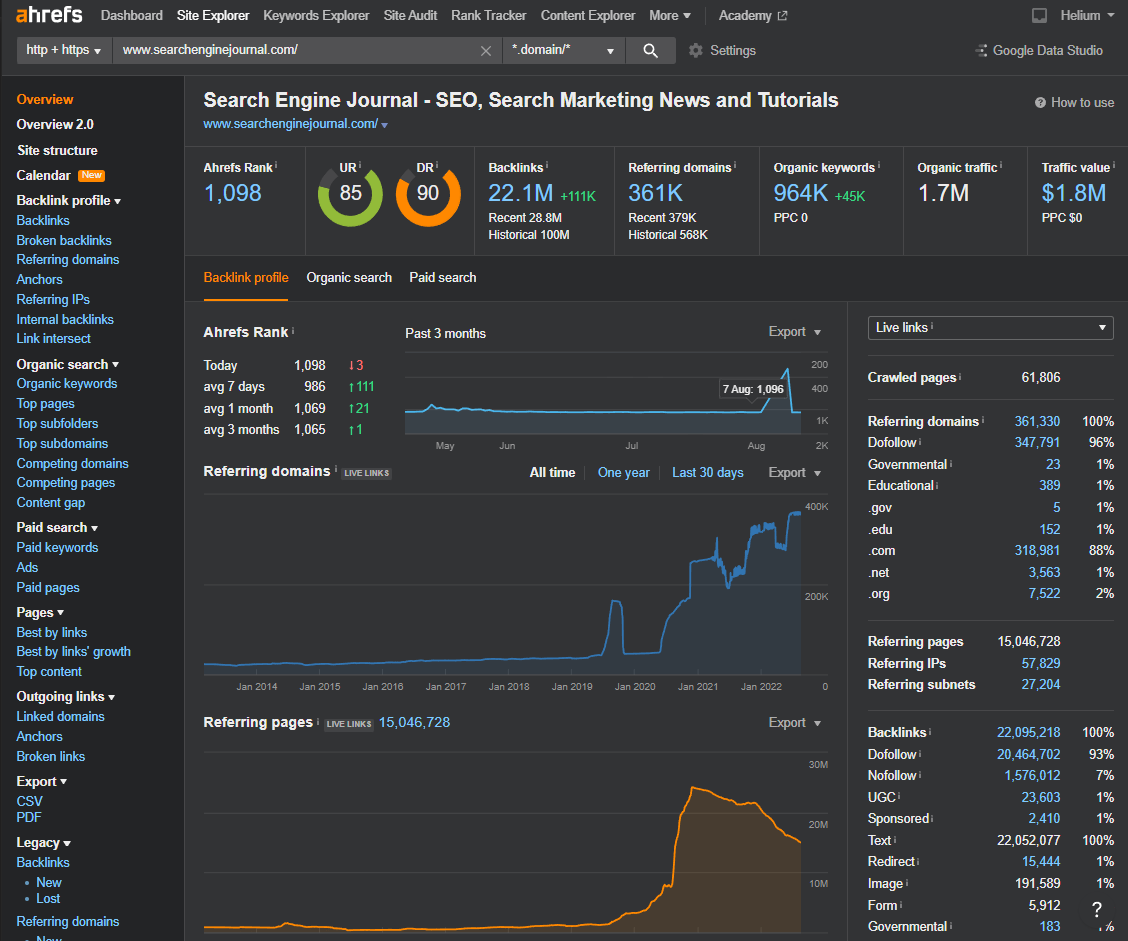 Ahrefs Rank – how your domain is ranking in relation to other domains. According to Ahrefs.com Ahrefs Rank (AR) ranks all the websites in their database by the size and quality of their backlink profile.
URL Rating (UR) – is a metric that shows the strength of a backlink's profile on a 0 to 100-point scale.
Domain Rating (DR) – is a metric that measures the quality and quantity of backlinks for a certain website URL. Both UR and DR metrics are measured on a logarithmic scale from 0 to 100.
Backlinks – the total number of external links that point to your site from other websites
Referring Domain – the total number of the different domains that link to your site.
Note: Just be aware that all metrics mentioned above are native to Ahrefs yet it's being recognized by many SEO practitioners.
Step 4: Backlinks
Let's put it this way, searchenginejournal.com is one of the popular websites that talks about SEO, and we want to know what types of backlinks they have so we can build our website to boost our site's backlink profile. By using this ahrefs tool, we can take a sneak peek of their current backlinks.
On the side under the Backlink profile, click "backlinks" to see tons of links that SEJ' have.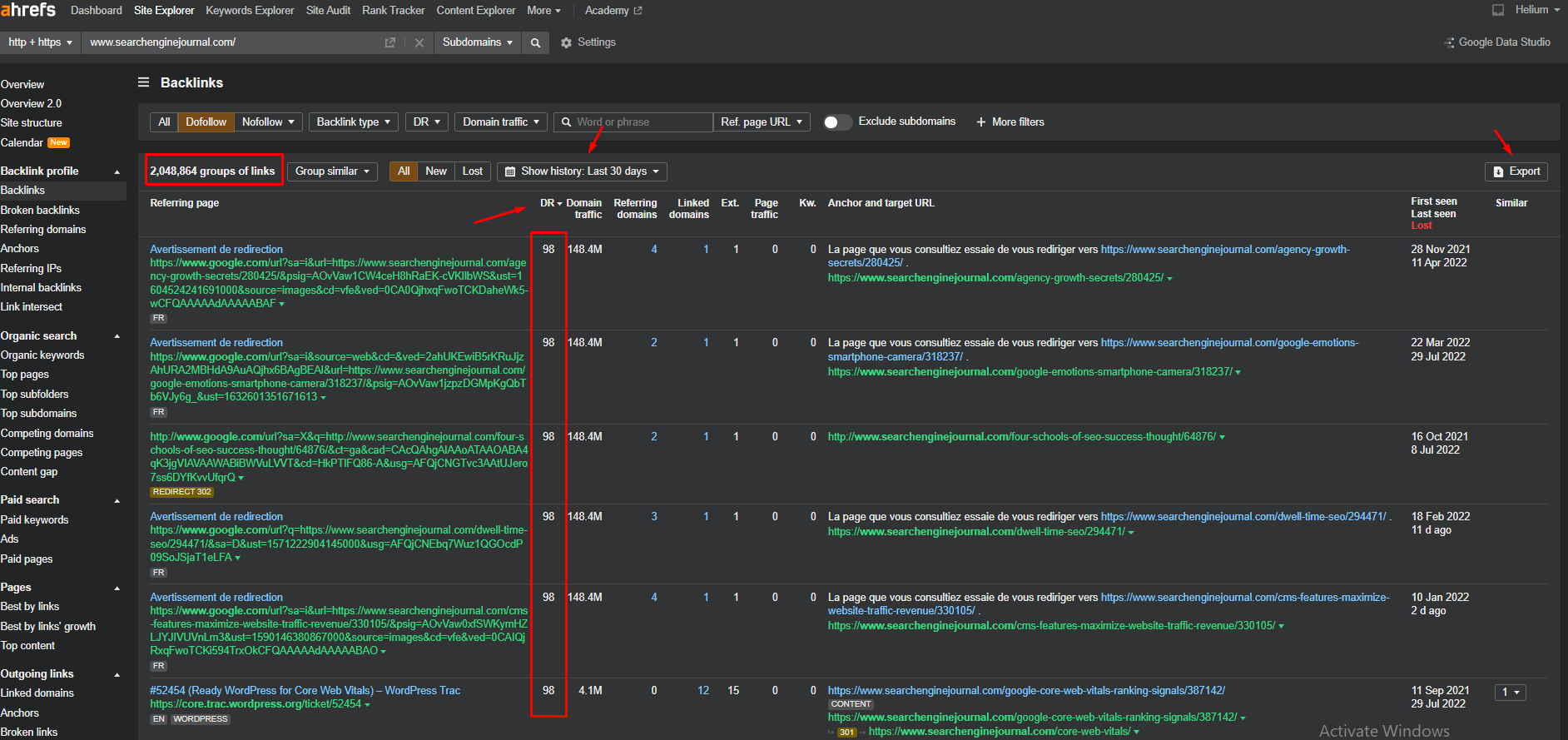 As you can see, searchenginejournal.com has a 2 million group of links, but not every link comes from a different domain. Some websites may link to your page multiple times.
Please be aware that not all links are the same. There are hyperlinks which have a tag attribute called "nofollow" which tells search bots not to hop to an external domain and continue their crawl within the current page. Links with "nofollow" are of lesser value compared to "dofollow" links yet are still important to link building to diversify your site's backlink portfolio. Later let's dive deeper into that topic in the next section.
This tool also provides a "show history" function to allow you to choose your preferred time frame, if you want to discover lost backlinks or highlight new backlinks during that period. For this sample. Let's set our show history to the last 30 days.
Next, click the Domain Rating (DR) to rank the website's backlink profile from highest to lowest. Most people consider DR to build backlinks from their business.
You are done selecting your time frame and domain rating (DR), now it's time for you to take a list of what and who is your target website that may help your business rank higher on Google. You can also export the data of your competitors as a PDF using the button in the top right of your page, if you want to further analyze or filter out the data.
Step 5: The Dofollow and the Nofollow tag
Links are a way for all online businesses to make their presence known. The more links you have, the more well-known your brand is.
There are two types of links "Dofollow and Nofollow."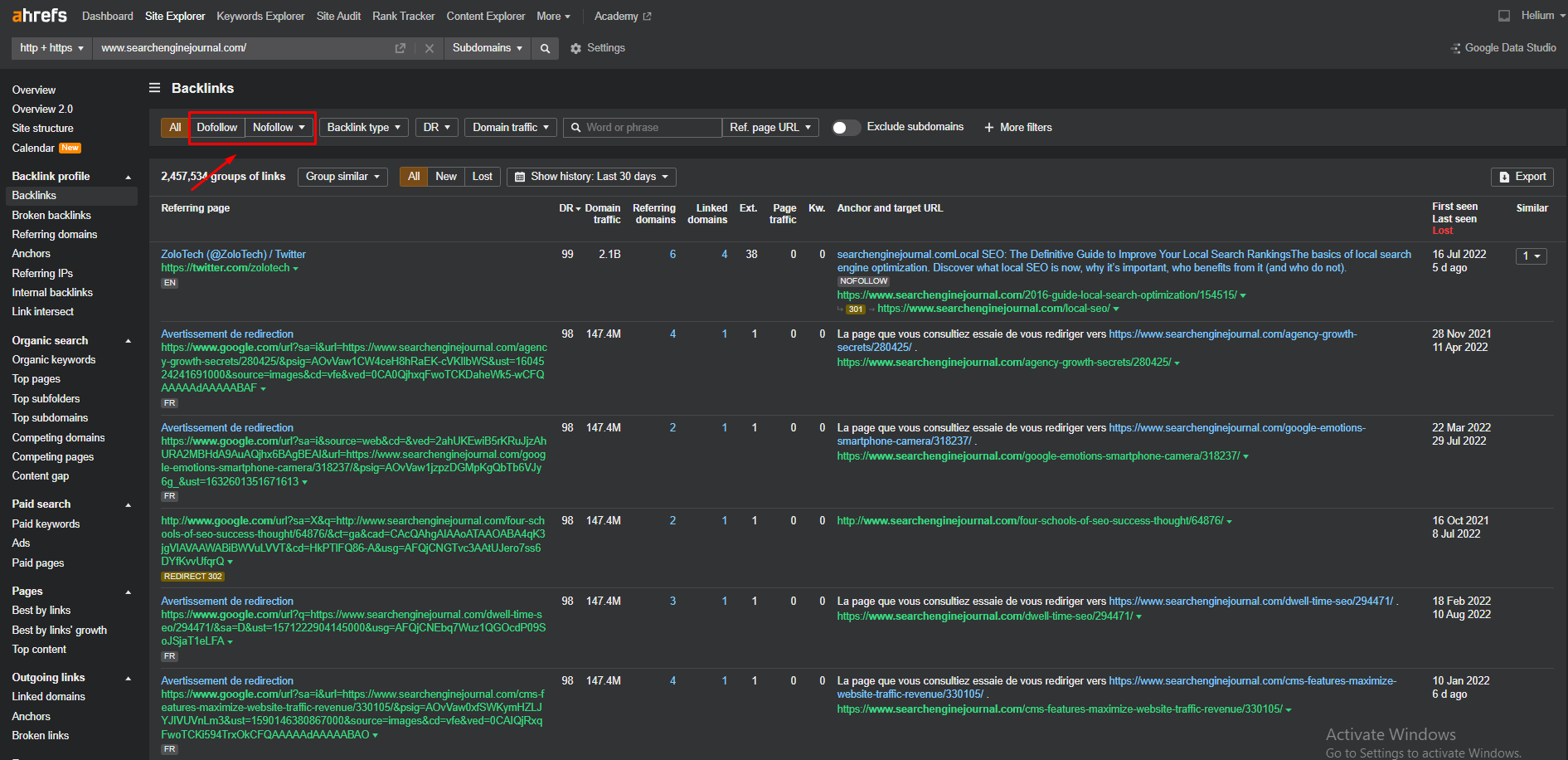 Nofollow links are hyperlinks with an attribute rel= "nofollow" HTML tag. This type of link tells the search engine bots not to crawl to another domain or other internal pages. But that doesn't mean it's worthless, in fact links with nofollow are just lesser value compared to dofollow links.
Overall, nofollow links are still useful for link-building to diversify your backlink profile.
Dofollow is the default attribute of every hyperlinks. In normal situations, search bots will hop to another page (internally or externally) if it finds hyperlinks as part of its discovery phase. When doing a backlinking campaign, this is the desired link to be acquired.
To recognize if a text has a nofollow link, you need to look at the HTML code.
How to look at the HTML code?
1. Right-click the "underline text or blue text"

2. Select "inspect"

3. The HTML code (nofollow)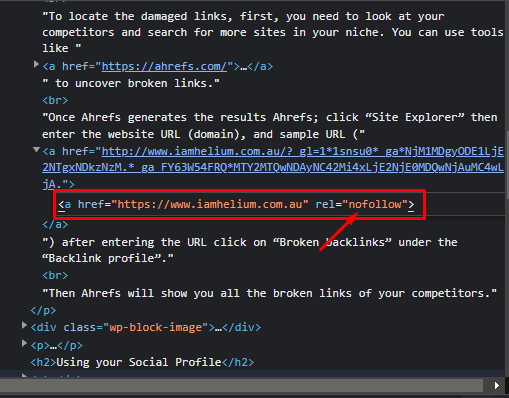 Sample, Nofollow, and Dofollow code:
Nofollow
<a href="https://www.iamhelium.com.au" rel="nofollow" >
Dofollow
<a href="https://www.iamhelium.com.au" >
Conclusion
Having quality and quantity links can help your site rank higher on Google. You can use your competitor's backlinks to build links to your website. Or write unique content and be proactive by reaching out to relevant websites and pitch your article that can bring more value to their existing write-up.
Be mindful that Google does not like you to reach out to people for paid links.
Please feel free to provide your thoughts and comments to this article based on your experience.
Reach out if you are looking for support with implementing the right SEO practices for your business.
Email: personalisation@iamhelium.com.au
Contact Number: +61 4 0404 1227
---