Web Analytics Tools Assessment
The five-step framework Or the Key 5s

Have you ever been asked by a stakeholder to compare your company's existing analytics solution with the competitors in the market?
Go on to read this one if you have experienced this in the past.
So, how do you go about it? Google search? May be, but that wouldn't be a personalized view in this world where personalized experiences are at the helm.
What are the key aspects of it and where and how to start with?
This is probably the most difficult part and I have had this feeling when I was asked about this, the very first time for one of the stakeholders. Not that a generic comparison is not available and there are like hundreds of sites where you can find some or the other information, it was about curating this comparison to a stakeholder and their requirements.
My team and I maneuvered this in a more stakeholder contextual framework than a traditional generic comparison. Have listed down few simple steps for some key learnings and how to ease out this mapping
Requirements Gathering
Ask and understand stakeholder's business requirements both current and future ones and what are the main KPIs that they pay attention to. Requirement or need gathering is absolute necessary since the tool usage and adaptability depends on it. In the absence of needs and solutions, a tool can just be sitting in your lap not solving problems.
Phase Classification
Bucket all the requirements as per APECAR/AAEPCR, i.e., Awareness, Acquisition, Engagement, Persuasion, Conversion, Retention so that it aligns well with business objectives and future vision. A user or any business have to think about all the phases of a lifecycle from acquisition to sales to nurturing to repeat sales and getting correct data at every stage is going to be vital.
Capability Mapping
Third measure requires previous understanding of the tool to some extent as you would be required to look at each of the identified requirements and map them with the possible solutions/features available in the existing analytics engine as well as the one it is compared with. It should be a requirement based lens.
Weight Allocation
You would have to take a best guess utilising your knowledge about the domain of the business and priorities, and assign weight to the requirements from the previous step. This weightage would be based on how much relevance and impact it has on the business and what happens if it suddenly goes missing.
Relative scoring
Once step 4 is complete, important step is to give comparative scoring to each Analytics tool against each of the requirements so at the end of it business can identify where the most gaps would be when planning a migration and where the new solution triumphs.
Here are the columns you should be looking at primarily and can add more, as per the Business relevance.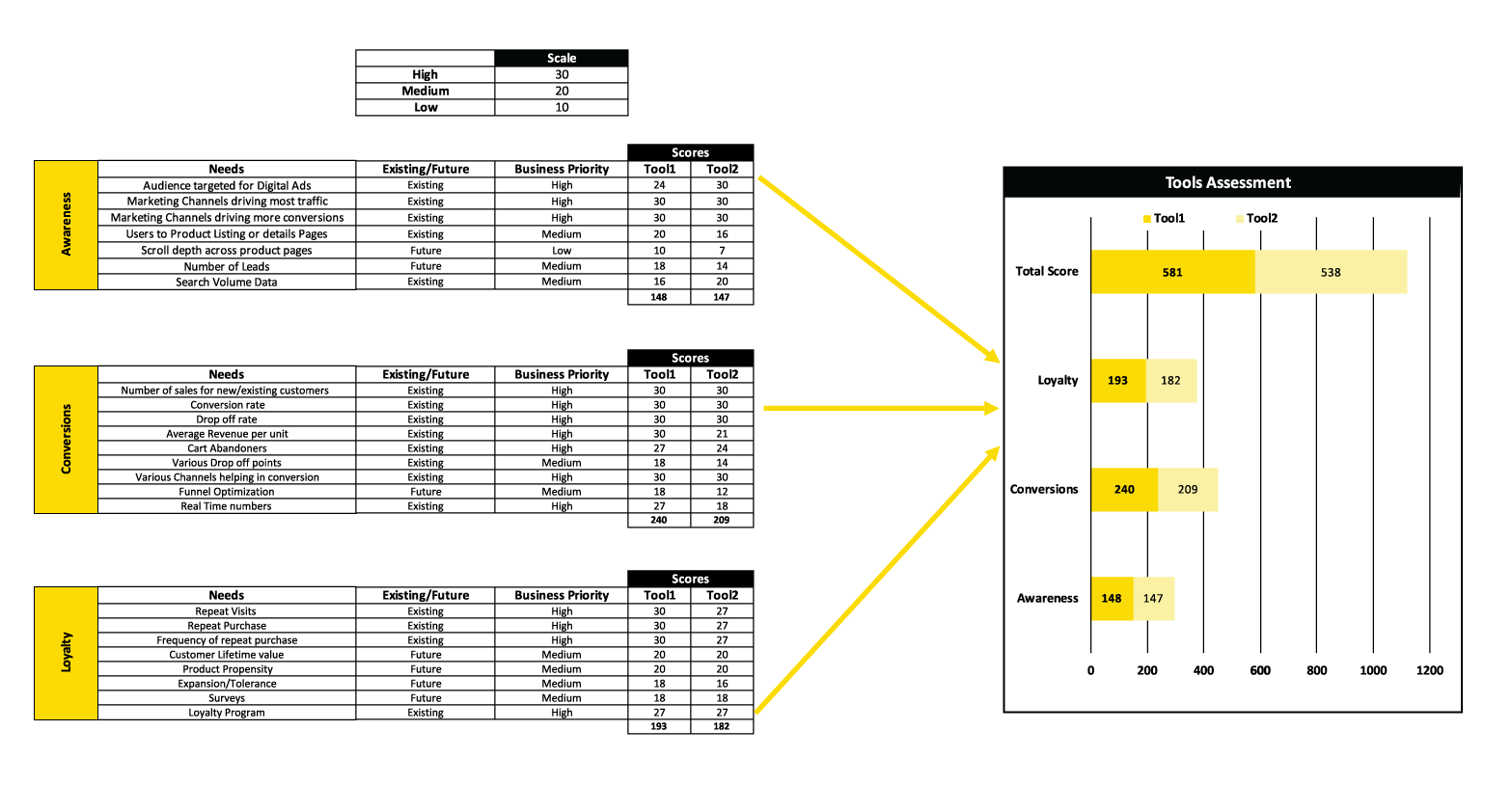 The entire document can be divided into various worksheets like requirements catering to Measurement, Reporting, Optimization and others.
This tool assessment personalized to a domain/stakeholder would be handy for any such future comparisons and can be extended to include any other market competitor to the list for helping out in quick business decision.
Please let me know your thoughts and if you have done something like this in the past. Would love to hear and know what are some of the most common approaches you have followed.
In case you are interested in a similar comparison for your business, reach out to Helium.
w: https://www.iamhelium.com.au/#contact-form
e: personalisation@iamhelium.com.au
p: +61 2-8114-4496
---