What are Topic Clusters?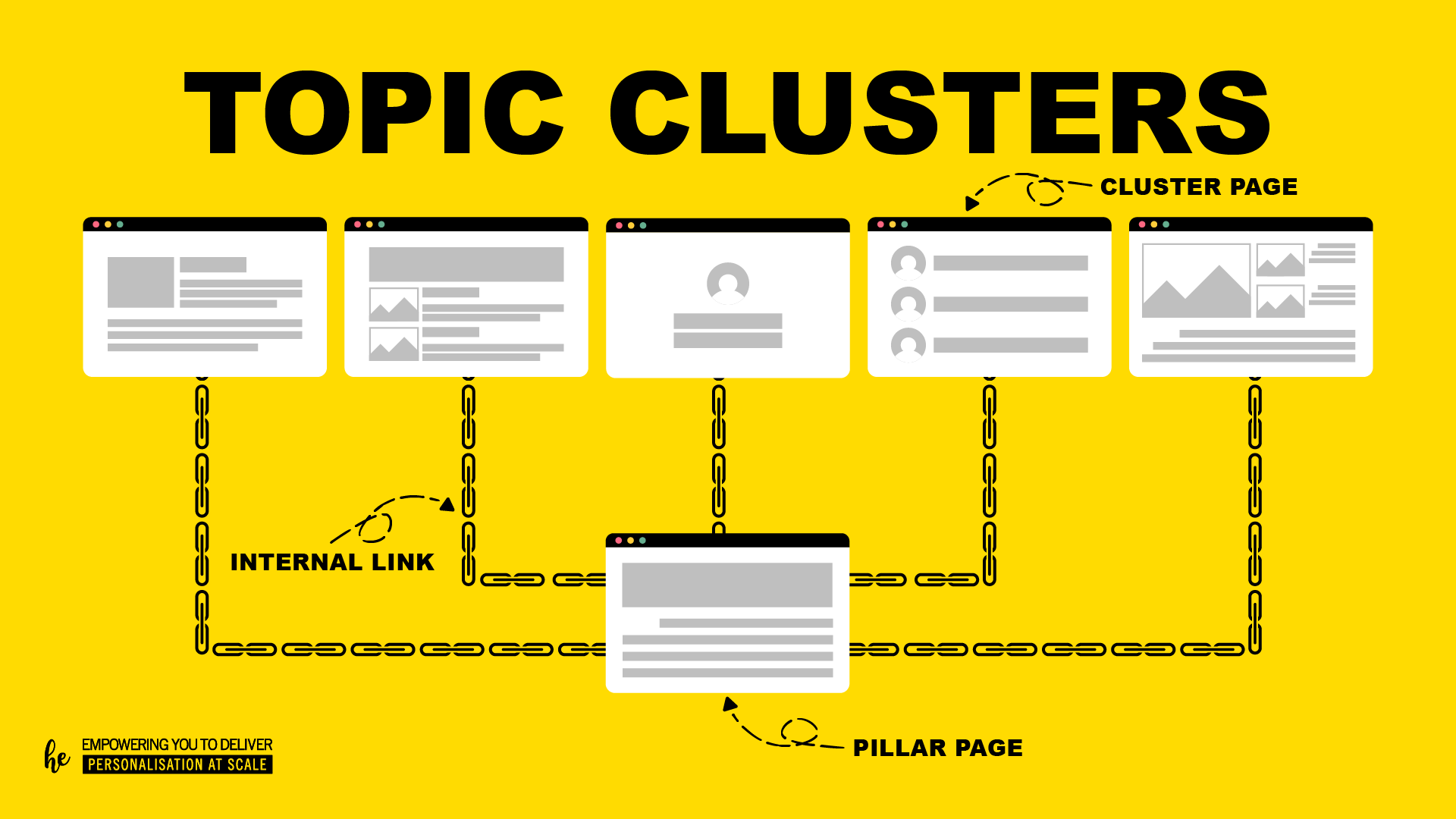 The topic cluster (or content cluster) are multiple pieces of content that revolve around a broad subject area known as pillar content. Every content page is related to the same topic and links to a comprehensive page of the content for that subject.
As a whole, such as spokes on a bicycle, topic clusters are a group of content by a shared topic and related subtopics around one piece of pillar content.
What is a Topic Cluster?
A Topic Cluster consists of 3 components:
1. Pillar Page
A pillar page is one of the essential parts of every website, which serves as the central hub for all of the site's content. The firmness of the pillar page comes from the cluster pages.
It is common practice to apply pillar pages as the primary landing page for a content hub. Because of the significant content topic, as a result, readers will be introduced or redirected to relevant content.
2. Cluster Page
Pages that link from a pillar page to share more in-depth ideas about the pillar topic. Along with its URL, it can also rank for long-tail exact keywords. The pillar page supported by the cluster pages also examines the possible options for traffic and engagement.
3. Internal link
The link from the cluster pages to the pillar page is a sign to web crawlers that the pillar page is the main content in the group. Links from a definitive pillar to a cluster content pass authority to the remainder of the cluster.
Each link ought to likewise have a suitably clear anchor text. This description assists web crawlers in better understanding what's behind each link.
The benefits of using these kinds of links:
They will help you distribute link equity.
The internal links are the best option to develop a website and distribute link equity.
It helps your site's navigation, but if your website does not have them, it will not work.
Why do Topic Clusters have an impact on search engine optimization (SEO)
The topic clusters can help search engines better understand and analyze your content pages. Through internal links, search engines can find the relationship and hierarchy between your articles and crawl more pages within your website.
Keywords in a web page's content are not enough when assessing its position on Google. Google wants to see if your website is relevant and reliable compared to your competitors.
Topic clusters can help your website by showing Google that your web page has the industry ability and offers a breadth of information about significant themes in your industry.
How Topic clusters can improve your SEO
Help bring more traffic to your site
The primary thing to consider for your site to rank in SERP is to make sure that search engines understand your topic.
Topic Cluster is the best practice to help the search engine understand your page content. When search engines show your page on SERP it increases the possibility that it will bring more traffic to your site.
Authority and reliability search results
By using a topic cluster, you are telling Google that you have all the information your visitors can possibly need. The more you provide high-value content, the more your visitors trust you. In turn, your are also establishing your authority and trust on Google and other search engines which will, in turn, enhance your overall ranking.
Helps to identify and structure contents on your blog
Even when you try, it's quite difficult to cover entire components of a topic in a single blog post. It's hard to read and you run the risk of boring your readers. By creating relevant content around a topic and by grouping them by topic cluster's is of great help.
Aside from that, it guides you to effectively identify the kinds of content that should be on your blog. Here, hyperlinks serve as a bridge for both cluster pages and pillar topics.
How to Create Topic Clusters?
We have already discussed the topic cluster model and how important and useful it is to your website. In the next step, we will discuss "creating your topic cluster."
These are the steps you should do when creating a topic cluster
Step 1. Choose your topic
When creating your topic cluster, it's like planning your business. The first thing to consider is to make your business name that attracts the customer. So in topic clustering, you should choose your content topic first.
Things to remember when choosing a topic as your pillar content:
The topic should be the foundation of your web page
It must be the article that you want to rank for
It must cover all the different aspects of a pillar page and be large enough to write numerous articles
Step 2. Inspect your existing page
After identifying and selecting the topic you want to share, the next step is to conduct a content audit to see if you already have supporting articles that you can link to your chosen pillar page. Sooner or later, this will let you expand your existing content.
Step 3. Optimize your keywords
As quickly as your topic clusters are made and you have already finalized your target keywords, you may now optimize your pages, and content, in your cluster.
Optimizing your keywords is to make sure that selected keywords are powerful for using the right traffic to your web page and ranking your site high enough that the right traffic can find it easily.
Step 4. Link all your content together
Now it's time to link them with each other, as well as to the pillar web page. While you are on this component, always consider making your hyperlinks two ways – this means that your pillar web page should have links going to each of your articles inside the cluster.
Please feel free to provide your thoughts and comments to this article based on your experience.
Reach out if you are looking for support with implementing the right SEO practices for your business.
Email: personalisation@iamhelium.com.au
Contact Number: +61 4 0404 1227
---